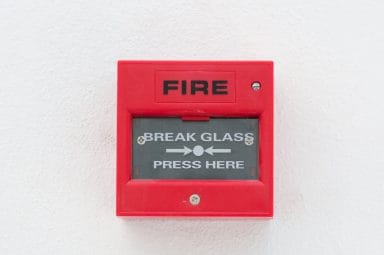 All furniture and furnishings that are provided in a rental property should comply with the Furniture and Furnishings (Fire Safety) Regulations 1988. The Regulations set the levels of fire resistance for domestic upholstered furniture, furnishings and other products containing upholstery. To ensure that they comply with the Regulation, a Landlord must ensure that all of their furniture is "fire resistant", otherwise they will be committing a criminal offence. This Regulation is enforced by local Trading Standards Officers and Landlords can be fined up to £5,000 and sent to prison for six months.
Furniture covered by the regulation
Furniture and upholstery covered by the regulation includes:
beds, head-boards of beds, mattresses (of any size);
sofa-beds, futons and other convertibles;
nursery furniture;
garden furniture which is suitable for use in a dwelling;
scatter cushions and seat pads;
pillows; and
loose and stretch covers for furniture
Furniture and upholstery not covered by the regulation includes:
sleeping bags
bed-clothes (including duvets)
loose covers for mattresses
pillowcases
curtains
carpets
antique furniture
furniture made before 1950
How can the Landlord tell the furniture complies?
Furniture that complies with the regulation should display a permanent label – this label should be displayed on both new and second hand furniture; examples of labels can be found below. Landlords should only purchase furniture and furnishings that carry a permanent label and/or ensure that the furniture complies with BS7177. If a Landlord is unsure, they should contact their local trading standards department for advice.
Should a label become detached from the furniture it is recommended that the Landlord retains it in a safe place, to ensure that they can prove the furniture complies with the regulation. It may be prudent to retain receipts proving purchase of the furniture or furnishings.
Examples of labels.
Temporary labels
Display labeling is required to indicate the ignition resistance of each item of furniture and should be attached to all new furniture at the point of sale, with the exception of mattresses, bed-bases, pillows, scatter cushions, seat pads, loose covers (sold separately from the furniture) and stretch covers. Three examples of temporary labels are below.
Permanent label
Permanent labeling on furniture is intended to assist enforcement officers and show compliance with the specific ignition requirements for covers and fillings. An example of a permanent label:
Practical tips for landlords
Only buy furniture which carries the label which denotes compliance. New furniture should comply, so if a Landlord buys new furniture and furnishings a Landlord should be covered – but, always check.
If you do buy second hand furniture, be careful to ensure the furniture carries the correct labels.
Consider renting your property unfurnished as you'll not need to comply.
Summary
Any Landlord that supplies furniture or furnishings when renting a property must ensure they are compliant with the Furniture and Furnishings (Fire Safety) Regulations 1988. Some furniture and furnishings do not need to comply with the regulation but these are limited in number. If a Landlord does not comply with the Regulation they can be fined up to £5,000 and be sent to prison for six month.
Useful Links: