K&G Lettings Limited have partnered with one of the leading insurance companies in the UK – Endsleigh – to offer tenants quality and cost-effective Contents Insurance. This allows K&G Lettings Limited to continue to take the hassle out of renting a property in Hull and the East Riding of Yorkshire.
Contents Insurance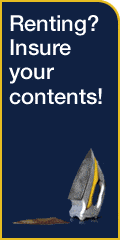 Tenants must ensure they have adequate cover for the contents contained within the rental house they are renting.  The landlord is only responsible for insuring the building of the rental property, against any potential loss or damage. As it is mainly the structure and part of the services which are insured, the contents and the belongings of the tenant are not covered. As a result, it is the responsibility of the tenant to arrange adequate contents insurance. More information on a tenant's responsibilities can be found in the K&G Lettings Limited articles: A tenant's responsibilities when letting a property; A tenants guide: Tenants responsibilities matrix.
K&G Lettings Limited, working with Endsleigh Insurance Services Limited are pleased to offer specialist, low cost contents insurance for those people living in rented accommodation which may include the following features:
Cover available from just £3,000 worth of contents
Cover just your own belongings and only pay for the cover you need
Cover starts from just £4.55 a month
Downloaded Music Cover
Get a quote today by clicking the link below:
More hints and tips on renting a property can be found in K&G Lettings Limited: A Tenants Guide.